TrustCloud
MobileID
One wallet for full control of digital identification
In view of society's awareness of identity and privacy protection, technology developers are required to make a certain commitment when launching new products.
TrustCloud MobileID digital identity portfolio ensures that users of both digital and physical services can create a reusable identity, with full control of their data. This identity is provided on-demand to organizations and applications always associated with a cell phone, which in turn is a pre-defined privacy barrier and an anonymous unique identifier.
One single identity

on the cell phone

With TrustCloud MobileID, the user simply installs the app on the smartphone and registers his or her identity credentials:
ID card or passport
Address
Social Security number
Driver's license
MAC of products purchased
The registration is completed only once and, thereafter, when requested by an organization, the user will grant access permissions to whichever identity attributes he/she deems appropriate. Such access will be limited to the identity attributes required to activate a service. For example, to send a gift, it will only be necessary for the supplier to know the delivery address, and to rent a car, it will be sufficient to know the age of the driver and the expiration date of the driver's license.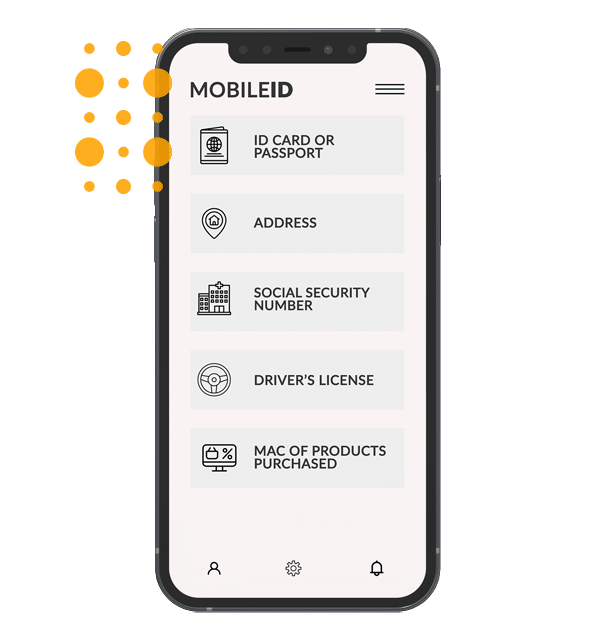 Identity
transfer
TrustCloud MobileID helps digital identity to be defined only within a specific context, giving individuals full power over their personal information and authority over their reputation:
100% digital verification process.
With applications in virtual and physical environments.
The final decisions are made by the user, who thus builds his or her identities with complete autonomy.
No external interference from governments or entities of any kind.
The phone becomes a globally valid identity support, which can be modified at any time and as many times as necessary.
All information in a single place.
Encryption of all data to provide maximum security.
Although it is directed at the general population, companies also benefit from greater technical ease in requesting consents and accessing identity credentials.
The application is enriched with every interaction, creating more robust identities and reducing the risks of fraud and impersonation.
Multiple security filters and Online Fraud Detection (OFD) with the possibility of multi-factor authentication.
Legal and regulatory compliance.
Great
possibilities
Conceived as an easy and simple technology that brings transparency to the relationship between companies and their users, TrustCloud MobileID offers a wide range of use cases.


Banking operations: onboarding as a new customer, transfers, loans, etc.

Government services: access to official buildings, renewal of documentation, tax payments, etc.

Employee onboarding and authorization management.

Age-restricted products and services (online gambling, betting agencies, social networks, etc.).


Completion of rental leases.

Telematic health services.

Travel: online check in, access control, etc.