TrustCloud
Senior Banking
Humanised and adapted digital banking for seniors
Senior Banking is a banking service aimed at senior customers. Through an assisted video and adaptive technology, it offers them accessible and inclusive digital banking.
With an easy-to-use assisted video system, the seniors connect with their real agents and are able to complete and sign any type of online transaction.
This way, the seniors enjoy the advantages of online banking as digital natives, completely autonomously and always assisted by a real human expert, just like if they went to the bank.
Without username or password but with 
secure assisted video
Senior Banking is a platform of Humanbanking which offers a comprehensive assisted video service for seniors.
Its video identification tools, intelligent document processing, electronic signature and artificial intelligence allow to complete any type of banking transactions with the maximum ease and security with the live assistance of a specialised and expert person in identity, fraud, falsifications and coercions.
To access Senior Banking, customers only need to call their bank by phone and request registration in the service. The bank will send customers an SMS with a link to access to the welcome video call, in which the bank will identify them, register their digital identity in the service and help them download the mobile application if required.
Humanbanking
in the truest sense of the word
Senior Banking is designed so that both banks and customers can enjoy it with all the facilities immediately:
Customers only need their ID, internet connection and a smartphonewith a camera and microphone to connect with the bank.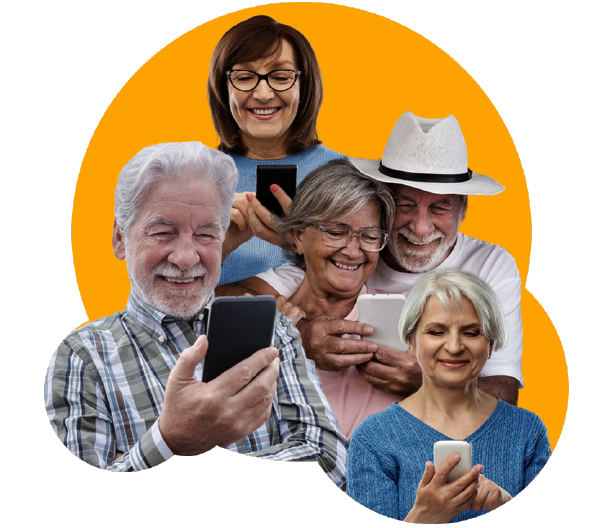 Benefits 

of Senior Banking

Senior Banking successfully integrates the seniors into the digital banking, eliminates their digital divides and optimises its Corporate Social Responsibility (CSR):

Humanised and personalised service for all digital transactions

Appropriate agent or expert for each transaction

High quality assisted video

Video agent experts in identity, fraud and training for seniors

Accessible and easy viewing application

Virtual bank book in the app

Cash withdrawals and request for documentation home delivery

Sign language for deaf customers

Scalable service at any level

Creation and safe-keeping of evidences and documents

Traceability of the activity and video calls with the customer

Direct risk control in each transaction