TrustCloud
HelpMe
The solution that rescues clients who are about to abandon onboarding processes by TrustCloud
TrustCloud HelpMe is a service that redirects users to a guided platform where the user will be able to get help after encountering a hurdle during an unassisted onboarding process. Instantaneously and with a person on the other side.
There is a considerable proportion of banking users demanding more and better digital capabilities from their banks, starting with the onboarding of new customers. The reality is that up to 85% of people who start an onboarding process abandon it. In unassisted modalities, users often feel lost or insecure.
Don't lose a
single customer
TrustCloud proposes a tool that is activated by the simple click of a HELPME button that is displayed on the screen. The user will be automatically redirected to the TrustCloud video center, where a professional and specialized agent will be able to assist the individual in more than 15 languages, guiding them through the necessary steps to complete the procedure. The right help at the most critical moment. Minimal friction and maximum ease.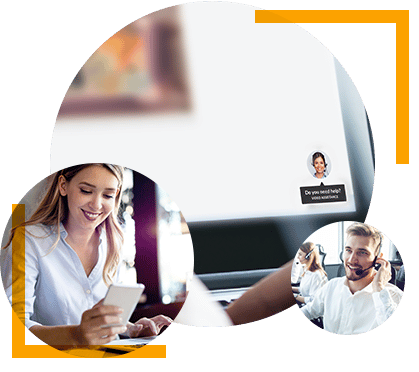 Abandonment
rate mitigation
High abandonment rates can be corrected through this simple add-on functionality to your existing unassisted or automatic onboarding process. It ensures a positive user experience by addressing the most common digital onboarding setbacks:

Much information
The customer is confronted with either too much information, or information that is not clear enough.

Duplicate information
The information requested is redundant.

Long waiting times
Lack of immediate results and long waiting times, even though the process is 100% digital.

Many clicks
Completing the process requires a high number on clicks.

Duplicate information
The information requested is redundant.

Document upload error
The system fails in the middle of the document uploading process or even when the user has provided all the documentation requested.

No intuitive help
In case of doubt, there is no intuitive, fast and individual help to guarantee the success of the transaction.
TrustCloud

HelpMe: leader in saving potential customers on the run

With a specific solution like TrustCloud HelpMe, designed to recover all the individuals who may feel neglected at any stage of a digital onboarding process, frustrated and anxious potential customer become an ally of the brand. From the very first moment.

TrustCloud HelpMe makes proactivity its hallmark and comes to fill a void: that of the forgotten individuals who never become customers, with a technology that fully integrates into tools used by organizations and corporations.