The digital certificate as a strong and robust verification tool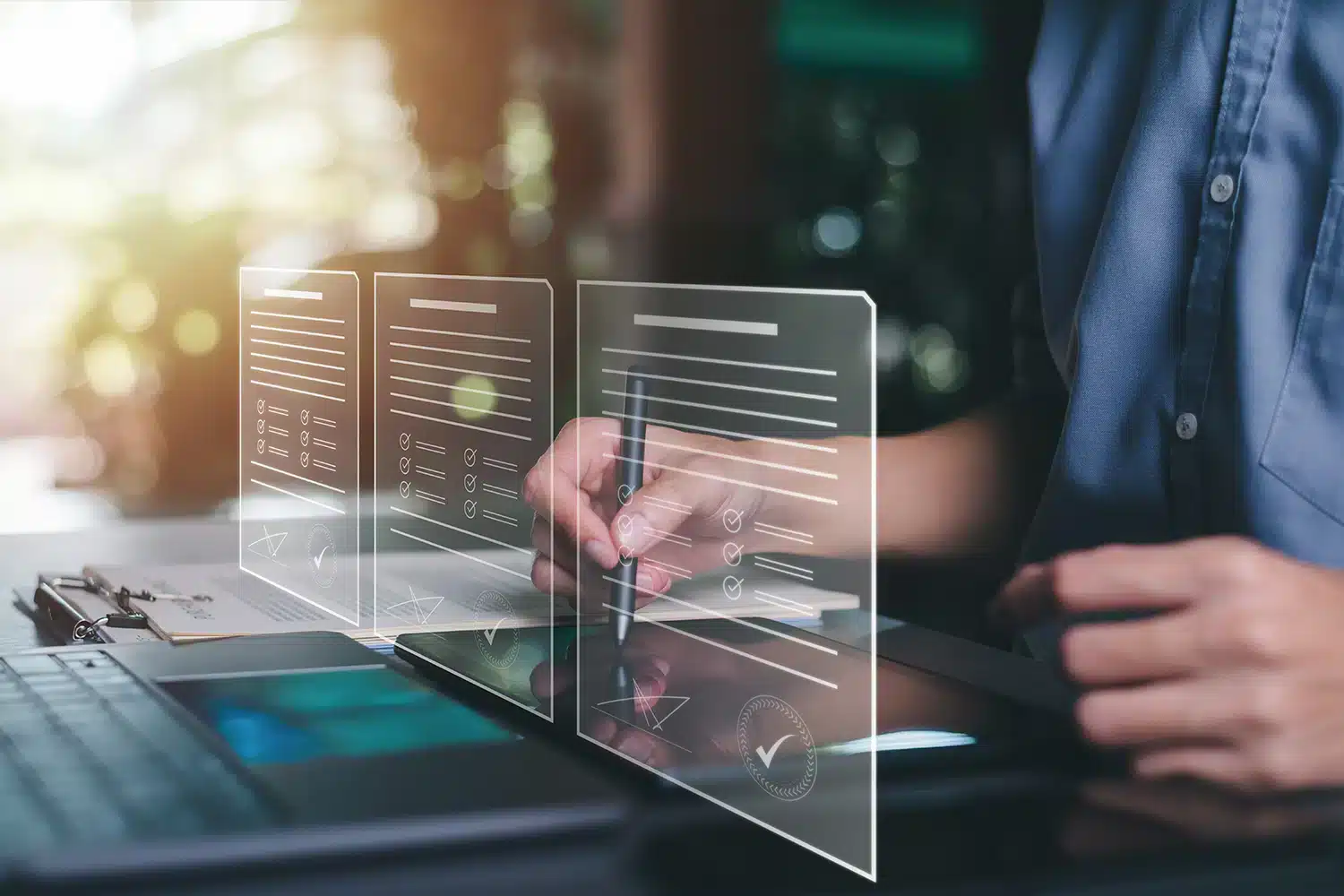 Digital certificates are a secure way to authenticate the identity of a person or company online and their use is becoming increasingly common. Branddocs VideoID allows you to issue temporary and permanent digital certificates in conjunction with a CA (Certificate Authority) when required by regulations.
D
igital certificates, which are issued by a certification authority (CA), ensure that the information transmitted online is secure and authentic. Once issued, the digital certificate can be used to digitally sign documents, access secure websites and perform online transactions, preventing unauthorized access. Certification authorities must comply with a series of requirements and security standards to issue quality digital certificates, without forgetting they usually have an expiration date, after which they are no longer valid and must be renewed. 
Due to their convenience and resilience, the use of digital certificates is increasing worldwide. 
Companies:

Digital certificates are used to ensure the privacy of corporate information, with special attention to its intellectual property (patents and trade secrets), composing a barrier against data theft. They allow companies to carry out commercial transactions in a very agile and efficient way, verify the identity of employees and customers online, which helps to ensure security in commercial transactions, and sign electronic documents, such as work contracts or commercial agreements.

 
Governments:

In government, they are used to help citizens securely access online services, such as filing tax returns or applying for social benefits, registering with the civil registry, filing an appeal or complaint, or consulting a sanction fee.

 
Education:

They are used to verify the identity of students, helping ensure that evaluations are conducted fairly and securely and, naturally, to sign documentation such as enrollment contracts or student agreements, smoothing the way for the management of administrative procedures.

 
The generalization of digital certificates provides a greater number of benefits, such as:
Economic savings: By digitizing the course of action and documentation needed for the procedures with Public Administrations, the cost of paper and other materials is reduced.
Time savings: Online procedures avoid waiting in long lines and making appointment requests at the administrations, saving valuable time.
Security: The signature included in the digital certificate is a qualified, reliable and secure electronic signature. 
Legal validity: By complying with European regulations, GDRP and eIDAS, it is guaranteed that the digital certificate has legal validity throughout Europe and establishes three types of electronic signatures: the simple signature, the advanced signature and the qualified signature. The qualified signature has the highest level of security and the same legal validity as a handwritten signature. 
Environmental protection: by reducing the use of paper in all of these procedures, the digital certificate helps protect the environment.  
Flexibility: The digital certificate and the digital signature offer great flexibility as they enable you to carry out procedures at any time and place, without the need to comply with limited administration or office hours.
Integrity: The implementation of cryptography ensures that data is not altered.
The expansion of the use of this identification system is exponential, especially since the covid-19 crisis that began in 2020 and which in just a few months led to an increase of 75% in the percentage of online administrative services available at the European level. However, there is a need to boost the adoption of technologies to help harness the potential of fully digital public services. A people-oriented e-Government, with transparent and user-friendly services, is key to achieving this. Globally, the implementation of certificates is uneven, with the need to overcome challenges for their adoption in many countries, such as lack of technological infrastructure or the resistance to change existent in some sectors.
The method for issuing digital certificates has relied, up to now, on obsolete systems that required the issuance of codes, phone calls and, ultimately, the physical presence of the person concerned. Branddocs VideoID allows companies to issue digital certificates on a permanent or temporary basis (only for specific services or with an expiration date).
Administrations are opening up to the possibility of issuing these certificates remotely. Identity verification solutions such as VideoID can be a perfect ally to build and standardize this process. Branddocs VideoID allows the issuance of digital certificates in a 100% secure and encrypted way and in real time. In addition, there is the possibility of issuing certificates with different features and security levels.
This solution helps avoid the most common problems. Traditionally users normally save their certificate on a flash drive or install it on shared computers. With Branddocs' unique, 100% digital access, this barrier is eliminated, and the user is assured that no one else will be able to use it. As a trusted provider, it reduces the possibility of fraud that can result from requesting the certificate from a fake or unauthorized site.
Branddocs enhances the possibilities of digital certificates by securing their operation, making them accessible and in check with the needs of the rapidly developing digital society.