TrustCloud
Digital Certificates Issuing
TrustCloud VideoID enables companies to issue temporary and permanent digital certificates in conjunction with a CA (Certificate Authority) when required by regulations
Secure and increasingly
widespread authentication method
Digital certificates are a secure and increasingly widespread authentication method that can be used to access a variety of public services. With them we can:

Carry out formalities related to our tax obligations.

Register in the municipal census.

File an appeal or a claim.


Sign documents electronically, etc.
To date has relied
on obsolete systems
However, the method of issuing digital certificates, to date, has relied on obsolete systems that required the issuance of codes, phone calls and, ultimately, the physical presence of the person concerned. TrustCloud VideoID allows companies to issue digital certificates on a permanent or temporary basis (only for specific services or with an expiration date).
Administrations are exploring the possibility of issuing these certificates remotely. Identity verification solutions such as VideoID can be a perfect ally to build and standardize this process.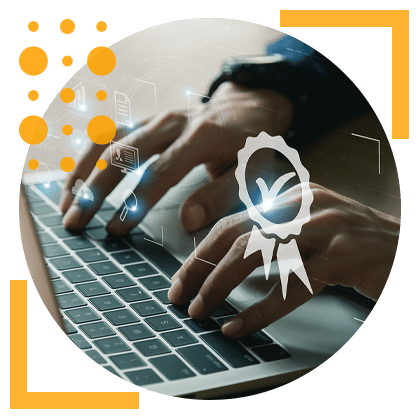 Allows digital certificates to

be issued in a 100% secure
TrustCloud VideoID allows digital certificates to be issued in a 100% secure and encrypted way and in real time. In addition, there is the possibility of issuing certificates with different features and security levels.
It mitigates the

possibility of fraud

This solution helps to avoid the most common problems related to the use of digital certificates. Users often save their certificate on a flash drive or install it on shared computers. With TrustCloud unique, 100% digital access, this hurdle is eliminated, and the individual is assured that no one else will be able to use it. As a trusted provider, it mitigates the possibility of fraud resulting from requesting the certificate on a fake or unauthorized page.

TrustCloud boosts the possibilities of digital certificates and secures their operation, making them accessible and in line with the needs of a rapidly developing digital society.